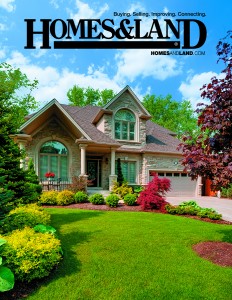 Homes & Land Tennessee would like to thank their loyal real estate agent advertising partners and readers for making them the largest real estate magazine network in Tennessee.
Homes & Land Tennessee produces 8 magazines in Tennessee titled Homes & Land of Central Tennessee,Homes & Land of Chattanooga & Northwest Georgia,Homes & Land of Crossville / Fairfield Glade / Lake Tansi,Homes & Land of Metro Knoxville, Homes & Land of Huntsville, Homes & Land of Middle Tennessee, Homes & Land of the Smokies, and Homes & Land of the Tennessee Valley. All magazines can be subscribed to online at HomesAndLand.com or ordered via their toll free request line 800-277-7800.
Homes & Land reaches homebuyers and sellers across Tennessee and nationwide via their real estate marketing franchise in 40 states and Canada. This presence across the state and nation means local home sellers get the best exposure available when their home is advertised inside Homes & Land. Thousands of home buyers in Tennessee alone pickup Homes & Land magazines every month looking for a new home. According to the National Association of Realtors, 80% of home sellers will buy within the same area. Homes & Land reaches this relocating demographic in Tennessee better than any other similar source.
It makes sense that Homes & Land is also the preferred choice of top real estate agents across Tennessee. In 2013, over 900 real estate agents in Tennessee chose Homes & Land as their real estate marketing solution. The combination of print, web, and multimedia services Homes & Land offers makes it easy to see why.
If you're considering buying or selling your home in East or Middle Tennessee contact one of the real estate professionals found on the pages of your local Homes & Land magazine. You'll be glad you did.
About Homes & Land
Homes & Land is a leading integrated real estate media franchise founded in 1983 by Russ & Cheryl Haskins. Family owned and operated, the Haskins family serves real estate agents across East and Middle Tennessee from their Farragut office at 12805 Kingston Pike. You can subscribe to magazines or search for area properties at HomesAndLand.com.