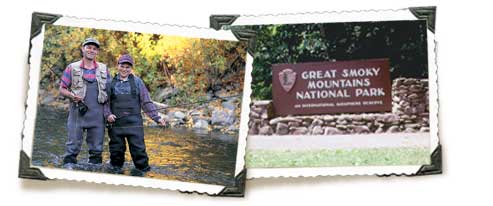 Our region is growing tremendously! Tennessee is a great central location and within a day's drive of more than half of the United States.
More and more folks from across America are discovering the natural beauty, the mild four seasons, the photogenic postcard panorama of unbelievable scenes, as well as the convenient location to areas to the north and south. "Half-backs", "Snow-birds", investors, retirees… more and more are looking at our region.
Mother Nature has blessed our region greatly! We are so fortunate to live in one of the most beautiful places on earth! An array of activities abound around every corner: Golfing, Boating, Swimming, Tennis, Hiking & Camping even in America's Most Visited National Park … The Smokies. There's an abundance of sports venues from major college athletics to professional football, basketball & hockey, even NASCAR races in Bristol. Or you may discover the favorite leisure activity of many is to simply enjoy the peace & quiet of the "country"!
Real estate has played a significant part in the lives of the "Baby Boom" generation. While their parents were "The Greatest Generation," baby boomers are certainly the greatest real estate generation. Nearly 8 out of 10 baby boomers own their own homes, and as many as 9 out of 10 have owned a home at some point in their lives. Boomers have invested in and indulged in real estate over the years knowing that home values rise over the long term and many see it as a long term investment that will pay off towards their retirement. One in four boomers owns more than their primary residence. This generation owns 57% of all vacation homes and 58% of all rental properties. Four out of ten who own a vacation home intend to someday live in that investment property or at least in that area. Baby boomers will be seeking quality over quantity when it comes to their retirement homes. Many boomers want their retirement homes located near a body of water or close to recreational activities. They will be looking to relocate in places with lower costs of living, lower taxes and where home appreciation rates have been modest. In other words, Tennessee is where they want to be!
Tennessee has been recognized as the #1 retirement state based on data rankings by climate, tax rates, cost of living and access to health care. With scenic rolling hills, mild climate, natural beauty, small town charm and a growing range of arts and cultural amenities, it's no wonder that Tennessee was at the top of the list.